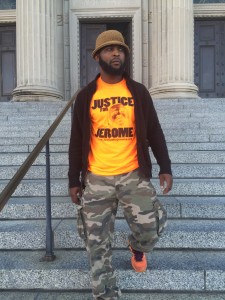 Transcribed testimony of two men used to help convict Jerome Morgan of murder 22 years ago can be used again in his upcoming retrial, even though those witnesses have recanted, a New Orleans judge ruled Monday (April 4).
The decision was a setback for Morgan, who already has served 20 years in Angola after what he and his legal advocates insist was a wrongful conviction for the 1993 murder of 17-year-old Clarence Landry III at a birthday party in a New Orleans East hotel.
"Jerome Morgan should not be in this position," said Emily Maw, director of Innocence Project New Orleans, which has championed Morgan's case since 2010 and successfully worked to overturn his conviction in January 2014. "It is within the power of the courts to stop this. And it's a shame that, at this point, no court has stepped in to stop what is a pretty frivolous prosecution."
Criminal District Court Judge Franz Zibilich set May 2 as the date for Morgan's retrial.
Jerome Morgan's attorneys assail 'desperate' DA tactics  http://www.nola.com/crime/index.ssf/2016/02/jerome_morgans_attorneys_attac.html#incart_article_small –link
Zibilich ruled Monday that the transcript from Morgan's first trial, in which then-teenagers Hakim Shabazz and Kevin Johnson identified Morgan as Landry's killer, can be shown to jurors at next month's retrial.
But Zibilich decided the transcript of the October 2013 post-conviction hearing, in which Shabazz and Johnson recanted their identifications of Morgan, also would be admissible. At that hearing, the witnesses testified they had been coerced and pressured by police and others to identify Morgan more than 20 years ago.
In January 2015 — 15 months after they recanted — Shabazz and Johnson were charged with perjury in a bill of information from the Orleans Parish District Attorney's office, based on their "inconsistent statements." Each faces up to 40 years in prison, with their next court appearance scheduled for May 18 before Judge Ben Willard. Neither is expected to testify at Morgan's new trial out of fear of incriminating themselves in their perjury cases.
Morgan's legal team, led Monday by Robert McDuff of Mississippi and Kristin Wenstrom of Innocence Project New Orleans, argued the 1994 testimony of Shabazz and Johnson should be excluded because the perjury prosecutions have made them unavailable to testify in Morgan's new trial.
"The state clearly has a motive to prevent the witnesses testifying, because it will gain a litigation advantage if the witnesses are treated as unavailable," the defense attorneys wrote in their motion. "But for the state's action, the witnesses would testify consistent with their 2013 testimony at a future trial, which would in no way implicate Mr. Morgan and will therefore leave the state with no case."
Through emotional testimony, witnesses to 1993 Sweet 16 party shooting recant  http://www.nola.com/crime/index.ssf/2013/10/through_emotional_testimony_wi.html#incart_article_small  
The state response, filed by assistant district attorneys Robert Freeman and Donna Andrieu, said the predicament was the fault of the Innocence Project attorneys, who were so intent on scoring testimony favorable to Morgan they disregarded the legal ramifications for Shabazz and Johnson.
"IPNO ignored its responsibility to advise Johnson and Shabazz to consult with independent counsel, as the witnesses' testimony (while conveniently valuable to Morgan) was against their own interests," the prosecutors wrote. "Rather artfully, defendant now seeks to attribute the witnesses' unavailability to the state."
Morgan's attorneys said they had arranged for attorney Tom Shlosman to counsel Johnson and Shabazz before their post-conviction testimony. They countered that the district attorney's office could simply grant Johnson and Shabazz immunity for any new testimony in Morgan's upcoming trial, a remedy proposal the state did not address in its written response. Morgan's attorneys said New Orleans attorney Nandi Campbell would lead Morgan's trial defense with McDuff.
"The honorable course would be for the district attorney to stop trying to send these two men to prison, and also stop trying to send Jerome Morgan back to prison after he already has served 20 years for something he did not do," Morgan's attorneys wrote. "Unfortunately, the district attorney has not chosen that path."
Louisiana Supreme Court upholds conviction reversal, new trial for man jailed 20 years  http://www.nola.com/crime/index.ssf/2015/03/louisiana_supreme_court_uphold_5.html#incart_article_small